What Free Video Cutter can do for you?
Do you have many too large video files? Do you want cut these video files into small files?
Do you want shrink your big video and trim blank content in the begin and end of video?
Do you want to chop and convert one video clip from a large video file?
Let this free video program help you.
About Program
Free Video Cutter is a free video utility to help you to cut and split your video files into small size you can use it as a "video cutter", "video splitter" or "video clipper". Program can work with most video formats, such as MPEG 1/2, MPEG4, DivX, Xvid, AVI, WMV, Quicktime MOV, Flash video and more, the output video can have a good video quality. No need any professional IT stills, No need any knowledge about all kinds of video formats, it is so easy to use. Without any adware or spyware, this simple software is 100% clean and secure, and completely free for you. Program is easy to use very much, and completely free, 100% clean and safe.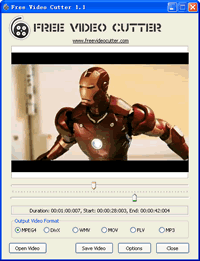 How to Use
Download and install this program in your PC;
Click "Open Video" button to choice a video file in your disks;
Once you choice a valid video file, program will read the video information, such as Bitrate and Duration, then program will start to create video thumbs;
Drop the left button of left Track Bar to set the begin cutting position;
Drop the right button of right Track Bar to set the end cutting position; (The start cutting position must smaller than the end cutting position.)
Choice the output video format;
Click the "Save Video" to save the output video.
Options
Change Precision:
For set the cutting position of one video file, there need set a precision value, the default precision value is 60, it mean program will set 60 positions for one video, for example, your video is 3 minutes, then the length of each video clip is 5 seconds. If you need more with huge videos, you can change this precision value in the Options dialog by click "Options" button, the valid value is from 10 to 200.
No Thumbs:
If you need work with very large video files, the creation for video thumbs will spend a lot of times, so you maybe need close the function, you can select the "Don't create video thumbs" in Options dialogs to disable this.
Output Video Formats
MPEG4 (Moving Picture Experts Group)
DivX
WMV (Windows Media Video)
Quicktime MOV
Flash Video (*.flv)
MP3 (only audio)
You use this tool to rip the audio data from the video file, create your movie original sound track by yourself.
Please note: program can support most video format, but not all, if it can show the images of source video files, then it can't work on these files.
Copyright 2009 FreeVideoCutter.com
This program and your privacy is 100% secure